Mediterranean Spaces: An interactive performance at the Museum of Fine Arts
Participants will embark on an interactive exploration of the MFA's collection of Mediterranean art, enhanced by the music that once enlivened the original spaces, sung by Psaltikon.
Thursday, October 14, 7pm: Museum of Fine Arts. Tickets and more info here.
Sound and the Sacred: A lecture and demonstration of kalophonic chant at UCLA
As part of an international, multi-disciplinary conference on sacred music and space, Psaltikon's Director, Dr. Spyridon Antonopoulos, will give a guided performance on Byzantine chant and its relationship to the sacred through performance, composition, and spatial setting.
Saturday, November 18, 4pm: Powell Rotunda at UCLA.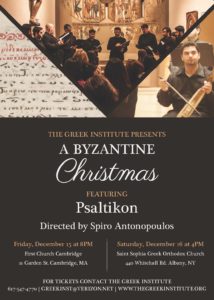 A Byzantine Christmas: Byzantine chant and traditional carols for Christmas and New Year
In collaboration with the Greek Institute, Psaltikon presents its original and eighth annual Byzantine Christmas, a festive concert of Byzantine chant, kalanda (carols), and readings from Greece, the islands, and Asia Minor.
Friday, December 15, 8pm: First Church Cambridge, Cambridge, MA. Get Tickets.
Saturday, December 16, 4pm: St. Sophia's Greek Orthodox Church, Albany, NY. Get Tickets.